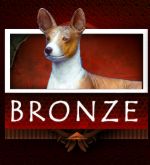 Afghan Hound
Basenji
Basenji Bust
Basset Hound
Bloodhound
Boxer
Bulldog
Cocker Spaniel
Collie
Dachshund
French Bulldog
Mastiff
Pug
Yorkshire Terrier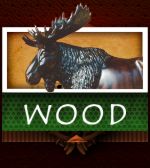 View All Wood Carving Sculpture
Bloodhound
Moose
Mustangs
Pug Dog
Friends - Horse & Dog
Basset Hounds
Whippet
Pugs
Toy Spaniel
Hound Dog Heaven
Saluki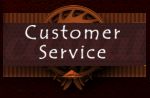 Dog Breeds

Bronze Sculpture Information

Customer Service
View Cart / Checkout
For More Information about: Dog Art & Sculpture

BASENJI BUST


Only $

1880.00
Sculpture Title: "Basenji"
Dimensions: 12" x 6" x 6"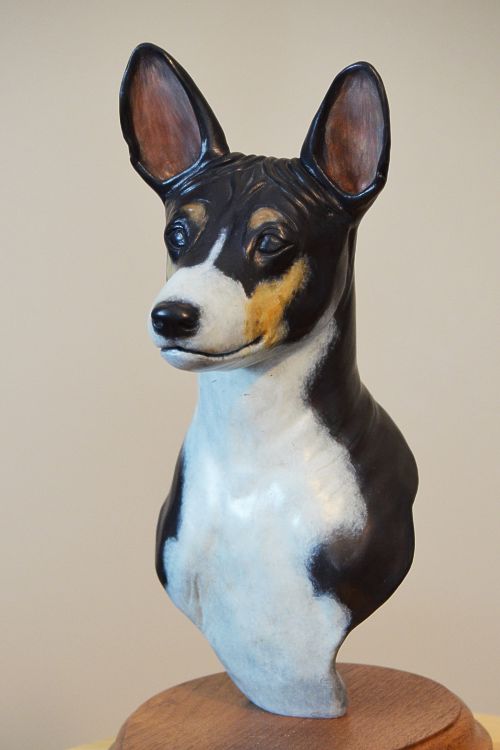 This beautiful bronze sculpture by Sharon Ziegenhagen is limited to a signed and numbered edition of 35 plus 3 artist's proofs. The original model is first sculpted in clay. Then, at a foundry in Montana, a mold for casting in bronze is made from it using the lost-wax method. This piece is also available in the standard patina, the typical bronze color. (To see an example of this finish, please check out the Bloodhound catalog page.)
Production and shipping may delay arrival up to 8 weeks.
Please call for current availability.
Basenji are small, elegant-looking, short-haired dogs with erect ears, a tightly curled tail and a graceful neck. A basenji's forehead is wrinkled, especially when the animal is young or extremely old. Basenji eyes are typically almond-shaped, which gives the dog the appearance of squinting seriously.
Dogs typically weigh 24 pounds (11 kg) and stand 16 inches (40.6 cm) at the withers. They are typically a square breed, which means that they are as long as they are tall. The basenji is an athletic dog and is deceptively powerful for its size. They have a graceful, confident gait like a trotting horse, and skim the ground in a double-suspension gallop, with their characteristic curled tail straightened out for greater balance, when running flat-out at their top speed.
The basenji is recognized in the following standard colorations: red, black, tricolor (black with tan in the traditional pattern), and brindle (black stripes on a background of red), all with white, by the FCI, KC, AKC, and UKC. There are additional variations, such as the "trindle", which is a tricolor with brindle points, and several other colorations exist in the Congo such as liver, shaded reds and sables, and "capped" tricolors (creeping tan). http://en.wikipedia.org/wiki/Basenji